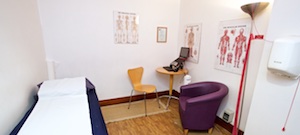 Contact Cane Osteopathy
Please get in touch with us now for a telephone consultation or to book in for your first appointment.
Telephone: 07958 738236
Email: caneosteopathy@gmail.com
Opening Times
Monday: 11am to 7.15pm
Tuesday: 2pm to 7.15pm
Wednesday: 11am to 7.15pm
Thursday: 11am to 7.15pm
Friday: 11am to 5.30pm
Saturday: closed
Sunday: closed
Find Cane Osteopathy
New location! Cane Osteopathy is now at the Clarendon Business Centre at 52 Cornmarket Street.
Cane Osteopathy
Clarendon Business Centre
52 Cornmarket Street
Oxford OX1 3HJ
Ring the second floor bell (on the right of the double doors on Cornmarket) to speak to reception, or if it is after 5pm, call me and I'll buzz you in. Come up to the second floor and I'll meet you in the waiting room.
Our treatment room is therefore no more than 10 minutes walk away from the central bus stops for any of the major bus routes serving Oxford, and only 10-15 minutes walk from Oxford train station.
There is no car parking available at our location. The closest available car parks are at Oxpens and Gloucester Green.